Benton First United Methodist CHurch
Here at Benton First United Methodist Church, we seek to live out the mission God has given us: We are rooted in Christ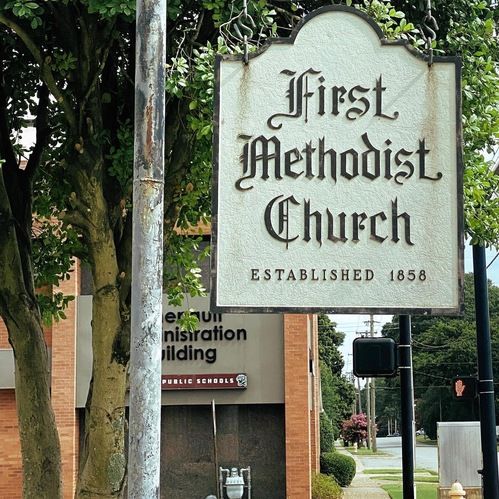 We don't just want you here, we need you! We need people who think differently than us. We need people who look and act differently than us. Because we believe that God's love is over all God's works (Psalm 145:9) we want to share in that love with you, regardless of what faith background you come from, what color your skin is, what your native tongue is, or who you love. Here you are welcome and here you will be loved, by God and by us!
Meet our new senior pastor
Rev. Keith Dodson has a heart for Christ and building relationships with others. His passions in ministry include Discipleship, Missions, and age-level ministry. His energy and enthusiasm are infectious and create a Spirit-filled culture! He says "I am excited about the opportunity to be part of the wonderful team of staff and volunteers at FUMC Benton. I feel that vitality comes through building a church environment that is welcoming and authentic. A vital church is one where every person is valued and loved for their uniqueness in who God has created them to be. A vital church is one that is outward and mission focused."
We are re-opening beginning Feb. 21 knowing that the danger of the pandemic is not behind us, so our return will continue to have the safe practices that we had in place last year when were worshipping together.

Walt and I find it so fitting that we re-open on this day, for it is the beginning of a season in which we repent of our sins, cling closely to the Gospel, and prepare our hearts for the joyous celebration of Easter. That day when love defeats evil, death is destroyed, and victory won. After all we have been through, we all need a season where we focus on those things.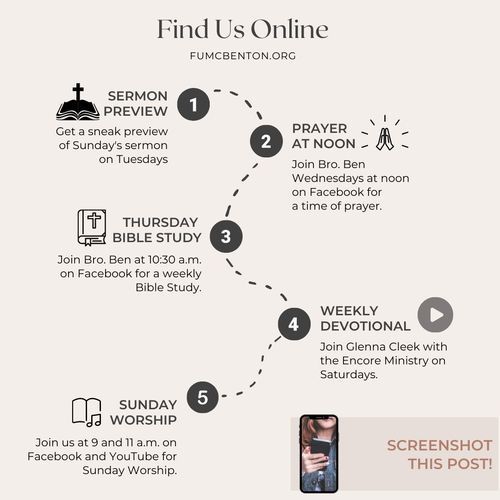 click here for
the latest media
Click on the link to the right to listen to the latest Sunday Sermon, Weekly Bible Study or other media items posted. It is a good way to stay updated through our podcasts and videos. For a full list, click the button below.