As iron sharpens iron, so one man sharpens another.
The Encore Ministry at Benton First United Methodist Church is a new ministry that takes care of the older generation in the church. Each month, the group ventures out into their community, or meets at the church, for a time of fellowship, fun and community building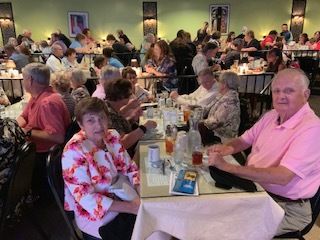 Our Encore Ministry takes frequent trips together to experience the beauty of God's creation, participate in powerful worship, and to see exceptional entertainment. If you would like to be included in the planning of these excursions, or want more information, please contact Donna Hogue.
This Short Term Bible Study led by Glenna Cleek meets periodically throughout the year and is open to men and women.
This Women's Bible Study meets periodically throughout the year, and is led by Cindy Kingery
Join us on Mondays in the CLC at 11:00 for our Encore Line Dancing. This is a great way to build relationships, get some exercise, and have a ball. People of all experience levels are invited to join us!
Devotional Video with
Glenna Cleek
"Even when there is so much to be anxious about, a walk around the block with God can return joy and peace to your life." Glenna Cleek, a lay Bible Study leader for our Encore Ministries, stresses the importance of turning over our worries and anxieties to God in this week's devotional video.

Remember, we love you and miss you.
We'd love to hear from you. Fill out the form below to get started.